Choosing Acorn you find truly bespoke garments, providing the upmost attention to detail. We can advise you on your garment selection from a range of fabrics and styles. Garments are individually cut and skillfully handmade to provide the perfect fit. We advise on aftercare and provide a tailoring service that can help you to keep your garment in pristine condition.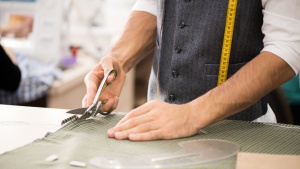 As a master tailor having experience making garments for all sizes, we can: style jackets to your taste, fit trousers with extra loops and waistcoats with satin lining. We also make period pieces expertly executed, usually for the stage.
The comfort, fit and style of your garments will be thoughtfully completed on time, to agreed budget and delivered nationwide.
Price guide, including VAT
Washable Trousers: Gents €110
Ladies € 95
Wool Worsted Suit: Gents €520
Ladies €460
The prime necessities for success in life are money, athleticism, tailor made clothes and a charming smile.
George Orwell