Image is vital to all companies who have a public presence. We supply made to measure uniforms for retail and service industry nationwide. Keeping things uniform for your team is key, we do not charge extra for outsize garments.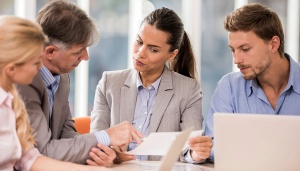 New staff member? No problem we can make you single garments on demand. Corporate clothing is not just office suits, it could be a golf blazer or customised aprons and garments for crèche and spa resorts. We can show you the best combinations of fabric and styles that your workforce can choose from and get involved in the process.
Price guide, including VAT
Jackets:
Gents €210.
Ladies €195
A Crest can also be added
Golf Blazers with Crest:
Gents €210
Ladies € 195
Ready To Wear
To complete our tailored collection, we offer an off the peg garment range of: jackets, trousers, knitwear, dresses, shirts, waistcoats and blouses, using the best fabric mills and producers in the world.
You can view our capsule collection by clicking the shop now button or alternatively you can download the entire catalogue here.